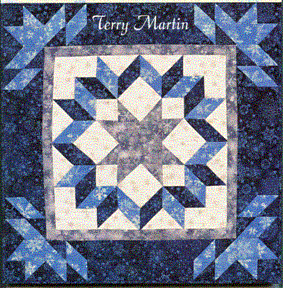 Instructor: Terry Martin
Terry Martin began her love affair with sewing as a little girl when her "Gammy" put and needle and thread in her hands. At first, her passion was for garment making, since that was the only way for a chubby girl to have fashionable clothes at the time! Terry moved on to needlepoint and counted cross-stitch--but once she discovered quilting, she went over the creative edge and never came back.
Terry lives in Snohomish, Washington, with husband Ed, daughter McKenzie, and four black cats. She is thrilled to return to Walla Walla where she spent many happy summers with her grandparents.
Terry lectures, teaches, and is the author of three books. She is the editorial assistant and author liaison at Martingale & Company publishers.
In her classes, Terry will demonstrate techniques not covered in the class book.
Class Schedule:
Classes will be held at the Walla Walla Regional Airport Conference Room
Saturday, September 25, 2004
"Crystal Blue" (pictured above)
This beautiful wall quilt looks complicated, but when you break it down into its individual components, you will see that it's just lots of half-square triangles! And, you will enjoy the distinctive border treatment as well.
Bonus Session: Terry will demonstrate a unique way to make your quilts sparkle using a fusible method with beads.
Sunday, September 26, 2004
"Snow on the Mountains"
The snuggliest quilt you've ever made! This one-block lap quilt will delight beginners as well as experienced quilters. Make it in cuddly flannel or cotton.
Fee for each class: $50.00
Both quilts are from the book Snowflake Follies by Terry Martin.
Fifth Annual Walla Walla Valley Quilt Festival
Class Schedule